What Revenue Goals Have You Set for Your Website?
Given that most prospects utilize search engines as a primary means of research, your website is little more than a vacant virtual storefront without search engine marketing. Without an influx of qualified leads and buyers to your website, it will merely stand to build credibility and establish a channel of communication with existing clientele.  Ask yourself, was the goal of your website to cater to existing clientele or drive sales?  Your website can be a powerful tool for driving sales and generating leads, but only when you reach new prospects that are in market for your services or products.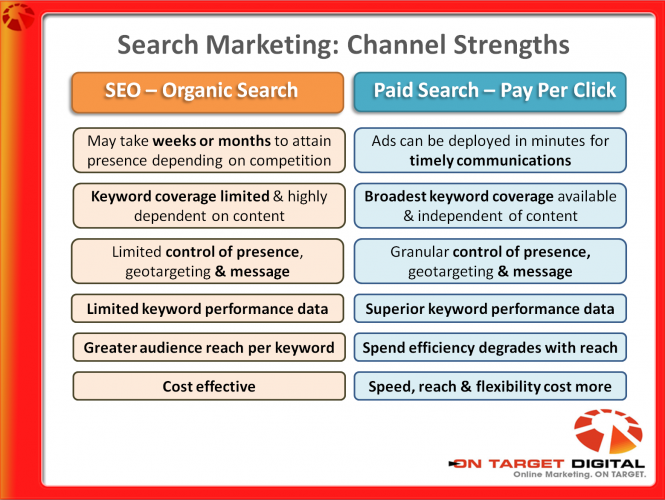 This Is Where On Target Digital Comes In
Our Paid Search experts help businesses achieve sales goals at a cost that is unmatched by any other medium nor our competition. We stand behind this assurance instead of hiding behind long-term contracts.
Searchers are looking to purchase your product or service – they just haven't heard of your business yet. Our Paid Search team will bridge this gap and ensure your target audience can find you when they're ready to become a customer.
What We Do
We grow businesses via the effective execution of well-targeted and efficient PPC campaigns. Our Paid Search team gets into the minutia of keywords, ads, match types and bids, so you can continue to do what you love – run your business. However, we treat our client relationships as partnerships and believe in full transparency for those interested in the nuts and bolts of a campaign.
Focused On the Bottom Line
ROI, or ROAS, is typically the defining metric of any marketing effort including a paid search campaign. This metric is elusive for most marketing channels and you may hear some of our competitors tell you that this is true with paid search too. Not the case. At On Target Digital we track form submits, emails and, most importantly, calls to provide our clients with an ROI for our paid search campaigns. We're committed to achieving our ROI goals and we'll provide consultation for not just your website, but also call handling to ensure optimal performance across customer touch-points.
Let us put your website to work by filling it with prospective customers wanting your product or service. Contact us today for a proposal and learn what a PPC campaign can do for your business.